(717) 454-2486
Facility Type

Residential Substance Abuse Facility

Disorders & Addictions Treated

Mental Health Disorders
Mood Disorders
Substance Abuse & Addictions

Levels of Care

Partial Hospitalization Program (PHP)

Services Provided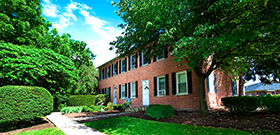 About New Perspectives of White Deer Run of Lebanon
About New Perspectives at White Deer Run
New Perspectives at White Deer Run, which is located in Lebanon, Pennsylvania, is a respected provider of comprehensive residential programming for adults of all genders who are struggling with substance use disorders and certain co-occurring mental health concerns. Our treatment center is about 30 miles east of Harrisburg and about 90 miles northwest of Philadelphia, which allows us to serve communities throughout eastern Pennsylvania. Treatment at New Perspectives at White Deer Run includes a variety of evidence-based, research-supported interventions that are customized to meet each person's specific needs. Elements of care at our residential addiction treatment center in Lebanon include detoxification; individual, group, and family therapies; and detailed aftercare planning to promote sustained progress.
What Makes New Perspectives at White Deer Run Different?
At our center, we believe that addiction is a chronic, progressive disease that is best addressed through personalized care within a welcoming and supportive environment. Every person who enters our residential program completes a thorough assessment, receives a personalized treatment plan, and works in close collaboration with a team of compassionate professionals. We are committed to providing the holistic, integrated services that will help each adult achieve successful long-term recovery from substance use disorders and experience true healing in mind, body, and spirit.