(610) 756-1487
Facility Type

Residential Substance Abuse Facility

Disorders & Addictions Treated

Mental Health Disorders
Mood Disorders
Substance Abuse & Addictions

Services Provided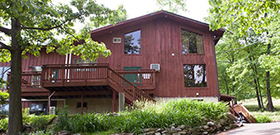 About White Deer Run of Blue Mountain
About White Deer Run of Blue Mountain
White Deer Run of Blue Mountain is located on a beautiful wooded campus in Kempton, Pennsylvania, about 25 miles west of Allentown and about 30 miles north of Reading. This center, which serves individuals from communities throughout eastern Pennsylvania, is a respected provider of superior, personalized care for adults of all genders who are struggling with substance use disorders and certain co-occurring mental health concerns. At White Deer Run of Blue Mountain, a multidisciplinary team of experienced professionals provides customized residential treatment within a safe and welcoming environment. The center also offers detailed continuing care planning to ensure that adults are connected with the resources that will support their long-term recovery.
What Makes White Deer Run of Blue Mountain Different?
White Deer Run of Blue Mountain combines the clinically superior care you would expect to receive at a much larger facility with the close personal attention and customized services that are characteristic of a much smaller treatment center. This dynamic balance of scope, size, and service makes White Deer Run of Blue Mountain an ideal place for adults age 18 and older to take important first steps on the path to successful long-term recovery from addiction to alcohol or other drugs.