(831) 269-5578
Facility Type

Residential Substance Abuse Facility

Ages Treated

Children (Ages 5-12)
Adolescents & Teenagers (Ages 13-17)

Disorders & Addictions Treated

Mental Health Disorders
Mood Disorders
Substance Abuse & Addictions

Levels of Care

Intensive Outpatient Program (IOP)
Detoxification

Services Provided

Experiential Therapies
Family Therapy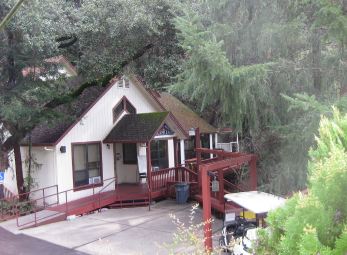 About The Camp Recovery Center
About The Camp Recovery Center
Located near San Jose and Santa Cruz in Scotts Valley, California, The Camp Recovery Center is a nationally recognized provider of residential and outpatient treatment for adolescents and adults age 18 and older who are struggling with addiction and co-occurring mental health conditions. Since 1984, we've developed individualized treatment plans to help patients who are struggling with the use of alcohol, opioids, and other substances find a better path forward. With programming that utilizes the 12-Step recovery model, motivational techniques and relapse prevention, and therapeutic interventions such as group therapy, experiential therapy, and cognitive behavioral therapy (CBT), The Camp Recovery Center helps patients realize their dreams through lasting recovery.
What Makes The Camp Recovery Center Different?
At The Camp Recovery Center, nature creates the backdrop for a new beginning. Nestled on 25 acres in the redwoods of the Santa Cruz Mountains, we offer our residential patients five cabins with porches overlooking redwood groves. Our serene environment sets the stage for contemplation, relaxation, and inspiration, and we're able to introduce patients to outdoor activities and sober recreation in the local area. The Camp Recovery Center personalizes each patient's treatment, which may include yoga, art therapy, ropes courses, gender-specific groups, and family counseling. We also have a specialty program for adolescents, which features an individualized education program, credit repair coursework, and a certified teacher on-site.