(605) 519-2077
Facility Type

Residential Dual Diagnosis Facility

Ages Treated

Adolescents & Teenagers (Ages 13-17)

Disorders & Addictions Treated

Behavioral Disorders
Substance Abuse & Addictions

Levels of Care

Intensive Outpatient Program (IOP)

Services Provided

Behavioral Therapies
Family Therapy
Pain Management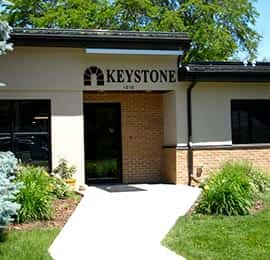 About Keystone Treatment Center
About Keystone Treatment Center
Since its inception in 1973, Keystone Treatment Center has established itself as a nationally recognized inpatient and outpatient treatment center for substance use disorders and co-occurring mental health concerns. At our inpatient facility in Canton, South Dakota, just 30 minutes from Sioux Falls, we treat adolescents and adults age 19 and older of all genders who are struggling with addictions to alcohol and other drugs. Through a variety of transformative treatments, which may include cognitive behavioral therapy (CBT), dialectical behavior therapy (DBT), experiential groups, and the 12-Step model, Keystone Treatment Center delivers evidence-based care in an atmosphere of trust and honesty. For those who need to rid their bodies of substances prior to beginning treatment, we also offer medical detoxification with 24/7 monitoring.
What Makes Keystone Treatment Center Different?
With a semirural setting on 13 acres of land, our facility allows for quaint moments of reflection and serenity throughout the treatment process. At Keystone Treatment Center, we tailor our treatment plans to each unique individual, offering gender-specific programming to all patients and programming that is directly geared toward those who are struggling with a gambling addiction. We also incorporate elements of spirituality, and our experiential therapies include ropes courses along with arts and crafts. Additionally, we feature programming that specifically focuses on reflecting the traditions, practices, and values of the Native American culture.