(570) 980-2475
Facility Type

Residential Substance Abuse Facility

Disorders & Addictions Treated

Mental Health Disorders
Mood Disorders
Substance Abuse & Addictions

Services Provided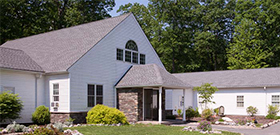 About White Deer Run of Allenwood
About White Deer Run of Allenwood
Tucked away in central Pennsylvania's Bald Eagle State Forest, White Deer Run of Allenwood is a leading provider of residential and detoxification services for adolescents and adults age 18 and older of all genders who are struggling with addiction and co-occurring mental health concerns. Our patients receive personalized care provided by a multidisciplinary team of experienced professionals. We use a variety of evidence-based practices and techniques as part of our programming, including cognitive behavioral therapy (CBT), 12-Step recovery principles, choice theory, and motivational interviewing.
What Makes White Deer Run of Allenwood Different?
Our facility is located on 150 scenic acres amid the majestic mountains of central Pennsylvania, providing a serene environment in which to step away from the daily stressors of life and focus on returning to a full and rewarding lifestyle free of chemical dependency. White Deer Run of Allenwood provides personalized treatment, with a broad range of specialty treatment programs that includes aromatherapy, meditation, and guided imagery, along with tai chi, yoga, and an outdoor ropes course. We offer a separate, gender-specific adolescent unit that provides age-appropriate treatment and school courses that allow those patients to work on assignments from their home district.